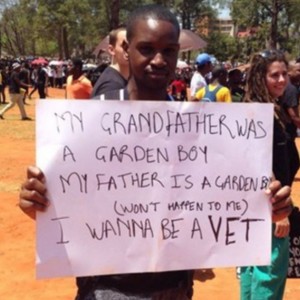 Fees must fall, yes #feesmustfall! I actually planned this month's blog post on a play on words regarding investment fees which must fall, over University fees which (also) must fall, but to be quite honest the University fees falling probably has as big if not a bigger impact on us than investment fees, so I've bumped that post on to another time.
So, let's look at what the impact is of the whole University fee issue. You see, the students are rightly upset that they have to pay far too much in University fees. The government on the other hand is saying there just isn't money to give free tuition, and they right, it's pretty hard to find money when you're throwing so much of it away on things we really don't need, like the arms deal, nuclear power stations and of course Nkaaaanndla.
I know I've said it before, but for some reason it just seems that governments don't understand basic finance. Firstly you need to make sure you spend less than you earn, and then you need to invest some of the difference. It's my belief that the #feesmustfall movement is simply the governments lack of understanding around making an investment in it's future. Delaying gratification now for huge rewards in future is ground zero for investing.
As you might already know, I like numbers, so let's look at an example: