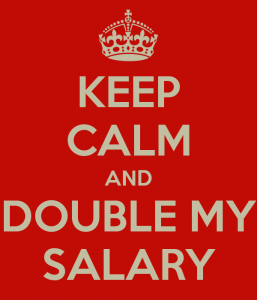 Apparently I've been getting people a little down with blogs on how much money is tossed aside because we like to have nice things, or because we do stupid things. After my last blog I got sent a message from Moneypenny "Now, for your next blog write about something that is not only a good investment but good for the soul (fun) as well." Challenge accepted. This one is for you Moneypenny.
I'd been working for just under two years when I asked my boss for a quick chat. "I'd like 50% more pay, and an extra 5 days leave every year, otherwise I'm out of here". I was quick and to the point. He had a sly grin on his face. "Excellent" he said, "let's go run it past the director and see how he feels".
I started my first job in matric, grade 12 for you young'uns, waiting tables at the only Baron in Pretoria. It was fun, earning a few thousand a month, while getting free food and an endless offering of dates from mildly inebriated women. There was also the brief stint as a fast food delivery driver, which was a lot easier, but far less profitable. At least I got to snack on the customers food when I was hungry. If you do order from one of the delivery places, and the guy uses a car to deliver, don't ever expect to get your full quota of chips. You may lose a tasty chicken nugget in the process too.
Then that all changed in 2001. After four years of late nights and hanging out with some of the best people I've met, while lounging out on the lush green lawn at Tuks, before sneaking into some of the dormitories guarded by first year slaves, I was given something called a Baccalaureus Scientiae. It sounded serious, like a virus that eats part of your leg. And it was, but in an altogether different, yet equally scary way. It meant that my days of leisure were over for many years.
The first company I interviewed for made me an offer, and I was over the moon. R7000 a month was pretty much double I'd made in my best months waiting tables, plus I wouldn't have to go home smelling like an ashtray, and wouldn't need to humour all the drunks at 2am to keep tips high. After a year I'd proven my worth, so I was due for a raise, and what a raise it was, R11 500 a month! I was earning 5 figures a month and 6 figures a year, for being able to track the temperature of an avo as it traveled from Nelspruit to Cape Town. True story, I was the one who made the tools that decided if it was worth shipping guacamole to London or avocados to Cape Town. Big money to me, especially considering I was still renting at the mom and pop inn for mere peanuts. My very cheap set of wheels was also a generous gift from my dad who worked in the car business. A fire engine red two door BMW. Set him back about R13k when a new Toyota Tazz would be around R40k. I loved that car, and after 200 000kms and 8 years of use I managed to sell it for more than he paid for it, and even then, the new owner had to pry the keys out of my hands while I swallowed the lump in my throat.
But thankfully all of those cost savings added up. Though it wasn't something I planned on, during all that time I pretty much saved 50% of all my take home pay, and fast forwarding back to December  2002 meant I had close on R80k in my bank account. Yes I know now that a regular bank account probably wasn't the best place for me to leave the cash, but at 23 I still had no idea what an investment really was.
And that brings us back to that fateful meeting with my boss. You see, sometime during 2003 I'd met fallen for a lovely long haired blond, with a body that belonged on the set of Baywatch. I always say I don't have a type, but she was exactly the type I don't have. With Baywatch being a rather smart girl and getting an advanced degree in Geophysics, there were really only two things she could do. Work for the Geoscience council in Pretoria, or take a big oil job in Cape Town. It was an easy decision for her, so in January 2003 she packed her bags and headed to the Republic of the Western Cape, with an invitation for me to join her.
I was left with a decision to make. Either take the trip to Cape Town, or keep building my career in Gauteng where the salaries are higher. The bigger paycheck is always a strong draw, but I was also an avid para-glider. It was something I truly loved doing, every minute of every free day I'd either be sitting on a mountain waiting for the wind to blow in the right direction (aptly called parawaiting!) or hopefully floating a couple of kilometers above the earth. The Cape was a very well known paragliding destination, with many foreigners flying halfway across the world to go fly there. I really wanted to take a few months off to fly, but I knew it wasn't the responsible choice.
In the end I decided to let fate decide. If I got an offer that was too good to refuse, I'd stay at my company, if not I'd go. My version of too good to refuse was an extra 50% in pay PLUS 5 more days leave, so I could go sit on a mountain of course. I went with my boss to go run it past the director. He was a little taken aback, after all I was just a junior developer, and here I was making demands. In the end they offered another 22%, but the leave was a no go.
Most people I know feel upset when their negotiations go badly, but I didn't. In fact I was thrilled, secretly hoping they'd say no. After all, I was sitting on a fairly decent pile of cash, enough for me to live on for a year or two, which meant I could decide what my future held. It's known as F-You money. I think the first time it came into popular use was in an interview in Jack Schwager's "Market Wizards", a great read if you have the time. F-You money isn't the same for everyone. For someone with loads of responsibilities and expenses it would need to be a huge amount. For a junior developer, enough to take care of his expenses for the longest imaginable time to get another job. Microsoft staff at one point allegedly use to wear badges with the letters FYIFV (F-You I'm Fully Vested) on them indicating that they could take their share options, worth millions for many of them, and because of that, they could leave at any time. Most didn't leave though, but they had the power to speak their minds in meetings, and also to choose the type of work they wanted to do. A great position to be in.
My two years of saving 50% of even my tiny salary gave me F-You money, and thanks to that I went on what was one of the most amazing 4 month adventures. Traveling all over the beautiful Cape, with hours spent soaring the dunes in Wilderness. Floating up the side of Lions head before crossing over to and then climbing even higher than table mountain. I'd flown up and down the Franschoek valley, and seen breaching whales from the air in Hermanus. It was an absolutely stunning time, worth far more than the small amount of extra cash I would have made in those months.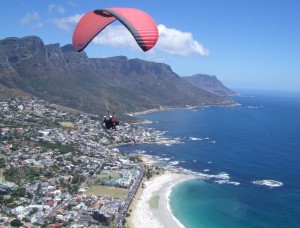 Incidentally, during that amazing time I'd also gone on a few interviews. Not really needing the money, or not specifically wanting a job puts you in an incredibly strong position when being interviewed. On one of the interviews I could clearly see they were keen, but I was still enjoying my time off in paradise. "How much would it take to get you?" was the way it was phrased in the interview. I asked for more than double my last salary, without the slightest flinch. The next day the phone rang and asked when I could start, at my full asking rate. I still had a mountain or two to explore, so I ended up having a four month break, and thanks to more than doubling my salary, I ended up making R120k more that year than I would have if I'd not taken the four months off. It also put me on a higher earning level going forward, paying off plenty from then onwards.
A few years later after I'd saved an even bigger stache of F-You money, when the opportunity came up to take a volunteer position with an organisation I'd dreamed of working for since I was a child. Even though there was no pay to begin with, and a reduction in pay if I got a consulting post in future, it was one of those once in a lifetime opportunities and I jumped on it. At that point, I knew I had enough money saved up that I could live for 5 years+ without needing a salary. They liked my work too, so after a while I became a consultant, and four years later a full time employee with some great benefits, 6, yes 6 full weeks of leave a year, and two pay rises per year, one for inflation, and another called an annual step increase. As we're all very astute investors now, we know that if something increases faster than inflation, and compounds that it'll do wondrous things. I eventually caught up and overtook the salary of my peers who stayed behind, all while working on something I believe in, and getting to travel to all sorts of weird and wonderful places. All of it, thanks to two batches of F-You money.
I'm now working on my third, and likely last batch of F-You money. I'd like to have enough to not need my salary. Well more actually since I'm a little conservative, I want to be able to cover double my monthly expenses just for a little extra safety margin. That to me is enough to have the freedom to decide what I do everyday. It might mean nothing changes, after all I love my job, or it could mean a whole new adventure for a while, possibly only making myself available to respond to emergency work requests going forwards.
So back to the request from Moneypenny. "Not only a good investment ✔, but good for the soul (fun) as well ✔✔."