Last week was my first full week back in South Africa for two months. In that time I went to Madagascar, Portugal, Spain, England, Germany, Durban*, Tanzania and Mozambique. Five of those were work, or at least as much work as it is having an utterly great time flying drones all over the show! If you're interested I'll put a few photos at the end of this post.
Now you might be thinking after all that traveling that it would somehow be out of my system, but like most addictions, doing more makes you want more, and all it's done is made my wanderlust much worse. Happily, wanderlust can be a very positive part of early retirement, as you saw with the previous post about Andre and Lisa who've been traveling through Europe for the past 6 or so months. Not only because it's been scientifically proven that spending money on amazing experiences can actually buy you long term happiness, that learning a foreign language helps stave off Alzheimers or that travel is scientifically proven to lower your risk of death. All of those reasons are fantastic of course, but did you know that retiring abroad can also be a financial benefit?
So how exactly does this work?
If you read my blog post on the foolproof 5% retirement drawdown article, you would know that the most dangerous aspect to retiring successfully is something called the sequence of returns risk. Having really bad luck in the first 10 years is THE key indicator as to whether you're going to end up living in a box eating catfood, or being murdered by your 24 year old trophy wife who's just tricked you into signing a new will.
The stats show that if you can get through the first 10 years in good shape, you're pretty much home free. One of the easiest ways to make sure you survive those years is to set yourself up to spend far less than you originally planned.
Now obviously there are many ways to save a few more Randelas. You could:
Stop washing your hair (apparently if you're a hippie it becomes self cleaning)
Potty train your cat to save on kitty litter
Get permanent make up (I'm not sure how much that will help me)
Go on dates for free food (I have a friend who mastered this. Top tip: If you date below your number and show cleavage it helps a lot!)
Move into a van (I may actually do this for a couple of years in Europe/South America, probably a little risky for Joburg)
Tell your kids the ice cream truck song being played means they've run out of ice cream
Another way to do this is to move somewhere cheaper
What if, for far less than you spend living in your current house, you could have a life on the road, slow traveling wherever your fancy takes you? Yes I know South Africa is already quite low on the big mac index, but there are many places in the world with considerably better burgernomics.
Happily for me, I consider myself a confirmed nomad. My wife, Candice, also loves to travel, but she's a little more picky about locations to live in. That's why I've undertaken a new challenge. I'm going to write a series of posts where I try to convince my wife to move to a new very low cost location.We'll be starting at the bottom end of what I imagine is feasible, and slowly work our way upwards in spending levels.
The first level is just R10 000 a month. Using my fantastically simple rule of 300, that means you only need R3 million to retire in the places I'll be discussing. And that's R10 000 for a couple, only R5000 each. If you and your wife can each save up R1.5 million each you'd be done if you lived in these places! And amazingly it's all inclusive, including rent, water, lights, food, healthcare, transport, and entertainment.
While that number fluctuates in global currency depending on which world or local leader has most recently said something totally idiotic, at the time of writing it works out to around $730 a month or $8760 a year. That might not sound like a lot of money, and for most reading this it probably isn't, but it is higher than the GDP per capita for 82 countries and that means there should be plenty of places you can live on R10 000 a month or less.
The bigger challenge now is for me to find one my wife will like! Fortunately my task isn't as difficult as I once thought it would be. Thanks to millions of people who would find any reason not to do actual work, there are now a bunch of user maintained websites that can tell you pretty much exactly what things cost around the world.
My favourites are Nomdalist, Expatistan, The Earth Awaits and Numbeo. What I like to do is filter down in the Earth Awaits and Nomadlist, then adjust for the costs which specifically relate to me. For instance I don't drink or smoke, so the costs of doing that are meaningless to me. I do like to eat low carb 95% of the time, so I expect to spend more on food, but hopefully staying lean will also mean less healthcare needed in my grey years.
For this blog post though I've left things pretty standard There will be loaves of bread, two bottles of wine, 6 beers and diabetes mediation (kidding on the last one). I'll also build in some safety by assuming a modest lifestyle rather than lean or very lean living, just in case.
So let's begin. Where in the world could a couple live for just R10 000 a month?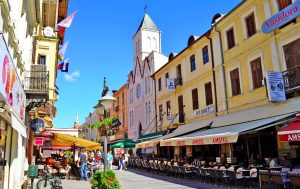 Exhibit A: Bitola, Macedonia
Housing (1 bedroom apartment including electricity, water, refuse and internet): R2617
Food: R3324
Healthcare (1 doctors visit, 1 course of antibiotics, 1 over the counter cold medicine): R337
Transport and entertainment (2 x 3 course meals, 4 x regular meals, monthly transport pass, gym membership, 4 x movie tickets): R2479
Total monthly cost: R8757
Imagine living in a cute little European town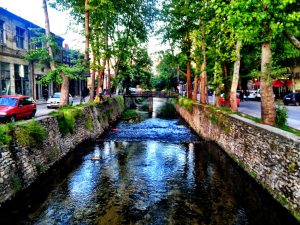 without the not so cute not so little European prices. That's Bitola. On the border of Greece and with just 120 000 people, it won't be much of a bike ride or walk to get into the center if that's your thing.
Happily the walk should be pretty pleasant, as it scores a fantastic 88 in the walk score so you'll be able to take plenty of long walks in the warm summer weather.
Winters are a little snowy which might be a novelty for us Saffers, but it never gets far below freezing. If you're used to Joburg winters you'll cope just fine. I've also heard that their electricity provider isn't run by thiefing imbeciles, so the power stays on all the time! As another bonus, the budget even has a R1300 of wiggle room for luxuries or anything unexpected!
Exhibit B: Eskisehir, Turkey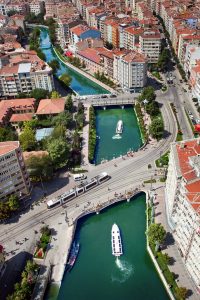 Housing: R2924
Food: R3915
Healthcare: R268
Transport and entertainment: R2775
Total monthly cost: R9882/month
Known as the Venice of Turkey, Eskisehir is a University town with two major universities. That means it's full of young people, easy to move around without a car, and has very low prices to cater for all the broke students.
Spend your days taking a walk down by the river, maybe with a trip in a gondola at a fraction of the prices of the real Venice. As with most University towns there are plenty of cafes, restaurants, parks and of course nightclubs. There's even a Disney like theme park complete with a castle, zoo, lake, science and space park, but unlike Disney it's all free!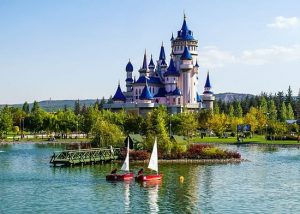 Yes at the moment Turkey is going through a much worse time financially than South Africa, but this time it's working in our favor. I spent a lot of time working in Zimbabwe when their currency crashed, and while I felt really sorry for everyone there, it was a fantastic time to be in the country with foreign currency.
I would have 3 course dinners for R40, and went on a weekend away to a game lodge on Lake Kariba, including guided tours on land and water to go see animals and it all cost me just R300. There's a lot of value to be found in failing economies.
Why not take advantage of the very cheap Turkish Lira and live there for a while. Getting in and out is easy too thanks to the great intercity transport. A high speed train from Istanbul takes two and a half hours and costs just R100.
Exhibit C (the one I'm banking on): Havana, Cuba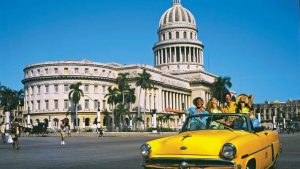 Housing: R3476
Food: R2917
Healthcare: R507
Transport and entertainment: R2195
Total monthly cost: R9095/month
If you like Pina Coladas, and getting caught in the rain. If you're not into yoga, if you have half a brain. If you like making love at midnight, in the dunes of the cape beaches, then Havana might just be the spot for you!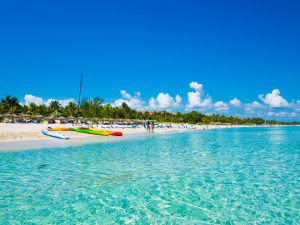 I'll dust off my Cuban Salsa moves and literally sweep my wife off her feet. We'd get a little sailboat which will pay for itself through fresh fish being caught, and spend days floating around in the warm Caribbean water. It should be an easy move for many South Africans, you probably already know your doctor from when he worked here.
The city is beautiful, full of bright colours and amazingly restored classic cars. The healthcare is excellent as you'd imagine and the city is very safe. You don't get more beautiful beaches than in the Caribbean, and the ones in Cuba are unspoiled perfection. Spanish is also one of the easiest languages to learn for English speakers, so you'll be lisping with the best of them in no time!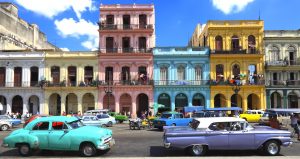 Candice will be happy that she's very unlikely to meet too many Americans at the moment, so it won't be nearly as loud as any of the other spots they frequent! I'll be happy because I'll still have R900 left over for boat repairs!
Now if you'll excuse me I'm off to go watch Buena Vista Social Club (or maybe James Bond's Die Another Day) to get a taste for Cuban life.
So how did I do Candice, do any of the options appeal to you?
The first one and Cuba would be an option, however it would be so much easier getting around from a European base.
So does that mean you'd go for Macedonia?
Yes, Cuba is really beautiful and seems like a nicer place, but I still want to work and for that I need to be in Europe. Connecting flights from Cuba will be expensive to Europe, at least Europe has cheap airlines.
Okay but you understand this is a fantasy at the moment, and in this fantasy you have so much money that you don't need to work?
Yes, but that doesn't matter because I still want to work!
I tried.
What about the rest of you readers, any other options to add to the list for future posts? I'm having a little trouble with the comments system at the moment, so feel free to comment in the forum here.

Loading ...
If you'd like to follow me on twitter you can look me up as @TravelBugBitten
Oh and before I forget, here are the pics as promised:
*Yes I realise Durban doesn't yet have independence and that I should have said out of Joburg!