Once upon a time there were two boys living in the vibrant city of Johannesburg. The boys were best friends, and did everything together.
Unlike the last time I compared two very similar people these two boys were similar in practically every way. They were both sporty, very smart and both just obtained tech degrees. There was just one difference, Chris absolutely loved cars, while Mike thought they were only fun on his PlayStation.
Now this story is going to have a lot of numbers in it, and as it takes place over a working lifetime, we need to deal with the inflation problem. There are two ways to do this.
The hard way, which means you have to constantly convert back and forth between today's money and the inflated money. This is a lot of work, and you often end up with numbers which can't be understood; or
The easy way, to simply take inflation out of the picture. This means you don't count it in price increases over time, but you also don't count it in investment returns. It makes the calculations much easier for me, and should make the numbers more meaningful for you. A complete win win for once!
On to the story.
Chris and Mike both qualified at the same time with the same qualification. They both got equally well paying jobs, about the same distance from where they stay. Sadly Johannesburg isn't well know for public transport, so like most professionally employed South Africans, Chris and Mike needed cars.
This is where their differences appeared. Chris didn't want to buy anyone else's problems, so he wanted a new car. Mike told him he was crazy, a good used car would do the job perfectly. He also said just to show Chris how much of a mistake he was making, he'd put the difference in what he and Chris spent on cars into an investment fund he's nicknamed the sensibility fund, and that it would make him quite rich one day.
Chris laughed all the way to the nearest VW dealership and bough a brand new entry level Polo, Mike on the other hand bought a used Toyota Yaris. Both financed the cars for 5 years even though Mike planned on paying off much sooner.
Mike: Age 21 – Sensibility fund = -R65 000

Now since Mike and Chris earned the same amount, Mike decided to make the same payments as Chris. That meant he paid his car off in 1.5 years and managed to invest R34 340 in the second year, to go along with the R12 000 he saved on insurance in the first year. The next year while Chris was still making payments Mike saved another R55 020 in car payments and insurance.
At the end of 5 years Chris also managed to pay his car off. Mike decided to keep his Yaris knowing that cars can happily last for 15 years and/or 300 000km, and his Yaris just had 200 000km and was 12 years old. Chris on the other hand wanted an upgrade. He traded his Polo in for R100 000, used R92 000 of that to settle his balloon payment, and gave the other R8000 to an Audi salesman in return for a brand new A3. "That ought to get me some attention at the golf course" he happily thought.
Mike: Age 26 – Sensibility fund = R240 222
This made Mike smirk. Chris had spent R331 500 (repayments and insurance) up to that point while he only spent R139 200. With the difference invested, it now meant he was sitting on a R240 000 investment account.
Three years after that Mike's Yaris reached the ripe old age of 15 years, and that too was sold. Mike also wanted a slightly bigger car so he could also carry a set of golf clubs when he went to play with Chris. To replace it he bought a 2 year old Toyota Corolla.
He had to dip into his savings to do the deal. He traded his Yaris in for R45 000 and took the other R120 000 from his sensibility fund. It felt really good to pay for the new(er) car with cash and still end the year with more invested than he started.
Mike: Age 30 – Sensibility fund = R629 540
A couple of years later Chris had paid off the A3. As he was now 32, and thought it was time for a little performance in his life. His new wheels of choice was the fantastically well engineered Ford Focus ST. Probably the best hot hatch in it's class and far more fun than should be legal.
Unfortunately he could only get R160 000 for the Audi, and had to dig into his pocket for R15k to pay off the R175k balloon. Happily since he now had 10 years of accident free driving, his insurance dropped significantly to R1083 a month. Mike's Corolla was still going strong at four years old, and his investment account was even stronger.
Mike: Age 32 – Sensibility fund = R911 691
Chris had a lot of fun tearing up the streets of Johannesburg in the ST, but soon both him and Mike ended up married with kids. Chris's wife wasn't too fond of the Ford. She said the harsh ride gave the kids nausea, the bucket seats gave her bruises and the bright colour clashed with her clothing and made her friends tease her. The car just had to go.
Chris agreed with her. Like Mike, he'd now been promoted to middle management, and nothing says middle management more than a metallic 3 series BMW. He traded the Ford in for R200k, paid off his R181k balloon payment and put the rest towards a 320i.
Mike laughed, he always though that nothing said lunatic driver more than a 3 series! His wife and kids were quite comfortable in the Corolla, and with just 200 000km on the clock it still had a long way to go. His investment account was way more than comfortable at over R1.5 million by now. Not too shabby for a 37 year old.
Mike: Age 37 – Sensibility fund = R1 714 485
By the time the beemer was paid off Chris and Mike were 41. The kids were now pre-teens and weekends spent playing golf had evolved into weekends spent spent camping or mountain biking with the kids.
Chris decided he needed a bigger, tougher car so that he could take the kids to out of the way campsites and carry the mountain bikes along. To a red blooded South African, the Toyota Fortuner 4×4 is the closest thing to a muscle suit with a built in braaimaster certificate. He traded in his 3 series for R200k, and once again had to dip into his pocket to pay off the R215k balloon. As per the last time Mike put an additional R15k into his sensibility fund to match.
Mike would join him on these camping/biking trips, still in his Corolla, but having bought a second hand bike rack from someone who took up mountain biking as a new year's resolution and gave it up as soon as the weather cooled in May.
Mike: Age 41 – Sensibility fund = R2 582 702
The next year Mike traded in his 15 year old Corolla for yet another 2 year old Corolla. The old one was sold for R65 000, almost exactly R100 000 less than a 2 year old one. Of course he paid for this cash using his now huge stash of investments in the sensibility fund.
Mike: Age 42 – Sensibility fund = R2 865 137
In their mid forties both Chris and Mike were promoted to senior manager levels. Their salaries were now very healthy, and while Mike was still happy with his choice of wheels, Chris thought it was time for something with a little more status in the badge. With the teenagers still in the house he knew he'd still need a large car, and since he was still enjoying the 4×4 privilege of being able to park on the curb at busy shopping centres, there was really only once choice for him. The best 4×4 by far, the Land Rover Discovery.
For once he got some decent money back for a deposit. The Fortuner held it's value well and got a trade in value of R320 000. After settling the balloon payment R245 600 he had nearly R75 000 to put down as a deposit.
Mike: Age 47 – Sensibility fund = R3 942 231
The Landy was a lot of fun, but in his 50s Chris ran head first into a mid-life crises. Fortunately it never involved a 22 year old name Skye, instead it was all about going topless and going fast. Chris finally bought the car he'd been dreaming about for years. A bright red Porsche Boxster. He decided against the Boxster S, as every true Porsche fan knows the regular one if more than fast enough, and so much better balanced with the lighter engine in the rear. It's also far kinder to the environment, and lighter on fuel so he can feel like a responsible adult.
After selling the Landy for R390 000 and paying off the balloon of R378 000 he put down a small deposit and picked up his new toy nicknamed Suzy. For once his new car was less expensive than his old one. Mike on the other hand was still driving the same boring but reliable Corolla.
Mike: Age 52 – Sensibility fund = R6 092 716
At age 56 Mike's second Corolla reached the 300 000km mark, and once again it was traded in on a 2 year old. Again this just cost Mike R100 000 on top of his selling price for the old car.
Mike: Age 56 – Sensibility fund = R8 247 213
A year later, after paying off the Boxster, Chris knew his days of open top cars were done. He was tired of the whispers of mutton dressed as lamb, and tired of having everyone see his bald spot at the traffic lights. He was also tired of having to pile on sunblock every time he wanted to put the top down, or risk the South African sun turning him into a lobster.
But more than that, he finally realised that he wasn't going to be able to work forever, and that he'd spent far too much money on cars, and saved far too little. Of course he couldn't admit this to Mike, so he did what any sensible 57 year old would. He bought the cheapest Mercedes C class around. Yes it's downsizing, but nobody will know. He had the dealership remove the badge so it looks just like an expensive one. It was a total base mode, the only extra is the iridium silver paint for R3500. You can't have it in white as that would look just like a rental car, and black shows dirt too easily.
Fortunately the Porsche had maintained it's value well, just like he told Mike it would. The selling price was R570 000 which meant after settling the balloon payment he could put down a deposit of nearly R120 000. For once he wouldn't even need the balloon payment which would have a huge positive impact in the total car costs.
Mike: Age 57 – Sensibility fund = R8 749 774
A strange thing happened when Chris had paid off the Mercedes, for once he didn't go looking for a new car. The fear of impending retirement made him decide to keep his still showroom Mercedes. After all it was only 5 years old, and with 100 000km on the clock barely broken in for a quality car like his.
Mike: Age 62 – Sensibility fund = R11 635 054
A few years later the friends retired. Luckily for both they had excellent pension plans from working and would have enough money to survive into old age, but for Mike it was going to be a lot easier. His sensibility fund had grown to over R14 Million Rand, and he had the money to spend time taking fantastic holidays and could also spoil the grand kids often. He also had a lot less stress because he wasn't constantly worried about running short of cash. Chris never had that luxury. Over his lifetime Chris would have spent R5.35 million rand on cars, Mike just R812 000. With that difference invested, the total return was truly astounding.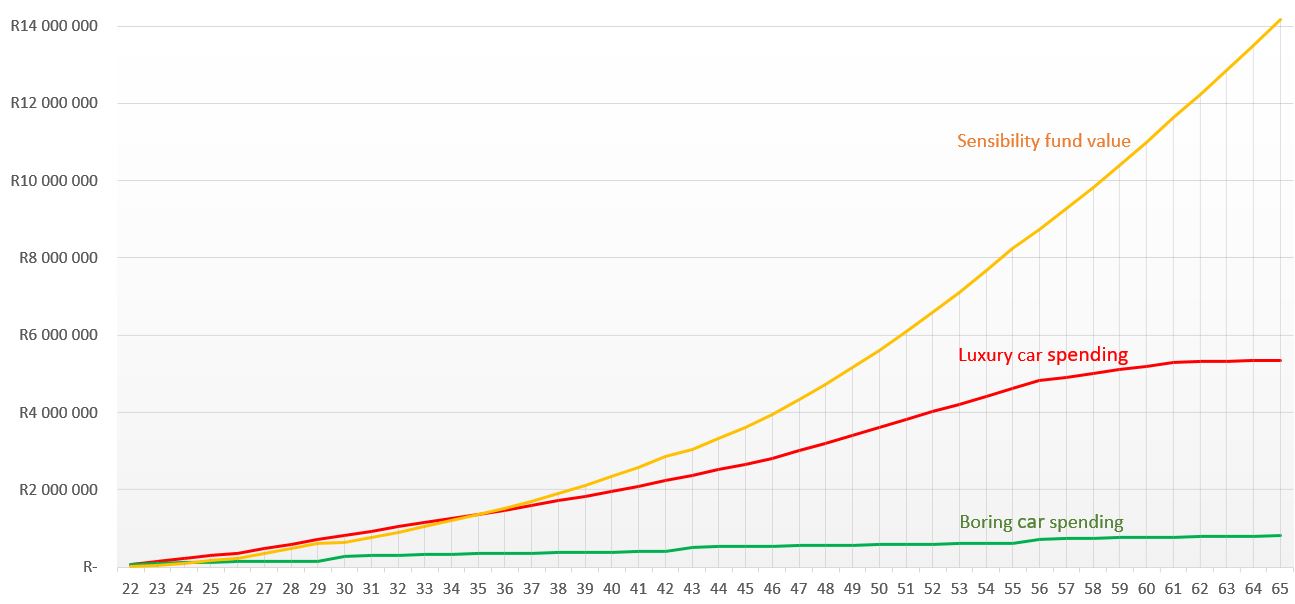 Mike: Age 66 – Sensibility fund = R14 168 342
As I said the last time I wrote about cars, I've always been a huge car fan. Some of the cars listed above are cars I've always wanted to own. Even just posting the picture of that Porsche had me doing the maths trying to justify why it would be completely reckless and that I've saved so hard that I surely deserved it. So yes, I know my 2004 Nissan Almera is quite boring. I also know it really doesn't do anything for my image. When my now wife saw it she assumed I must be quite poor. So poor that she bought me some new clothes as a gift… I'm really hoping that was all about the car and not about my dress sense!
But you know what won't be boring one day? R14 million rand. In fact if you've read last months interview about Andre and Lisa you can see just how exciting life can be when you don't need to worry about money any more. Be like Mike, or Andre and Lisa!

Loading ...
*Car costs were taken from manufacturers sites for new cars, and average autotrader listing prices for used cars. Insurance figures were pulled from online comparative sites, and the finance figures from the largest car finance company in SA.
**Investment returns were calculated at just 5% (remember we don't count inflation). That should be an easily achievable figure over a long term investment.
***The typical South African spends all the money they have, so even if they chose to drive a cheaper car they'd probably spend the money somewhere else. If you can avoid that trap you're likely to be able to save quite easily.